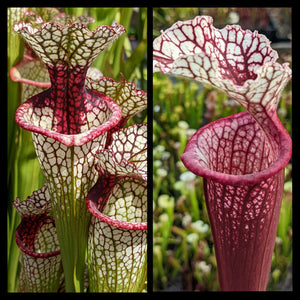 The clone of 'Lunchbox' x "Johnny Wilkerson" we used for this cross is temporarily nicknamed V29.  It has a pink-maroon leaf with a white top, and very fall dominant.  
'Lunchbox' is proven breeder with great potential to make vibrant moorei.  This cross is 3/4 'Lunchbox', and 100% awesome! 
Expect lots of great pink, red and white moorei with this cross.  Some may have the delicate pink veins inside the throat like v29.  
Each packet contains approximately 25 seeds.  
FlytrapKing.com does not offer customer support for seed-growing plants.  Please click here for some helpful guidelines .
327