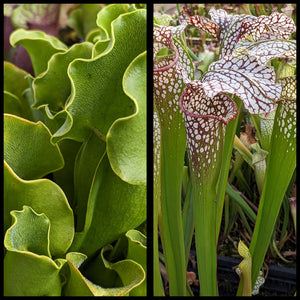 This clone of S. excellens x moorei is damn-near perfect.  It inherited the best traits of moorei and excellens!  It is hooded and wildly colorful.  Because it has a touch of S. flava parentage it makes great leaves in the spring and the fall.  
We decided to cross it with purpurea ssp. purpurea "albino" to give you the opportunity to grow some surprise wild-card seedlings.  They will be intermediate of the two parents in appearance, whatever that is! 
Each packet contains approximately 25 seeds.
FlytrapKing.com does not offer customer support for seed-growing plants.  Please click here for some helpful guidelines.
484