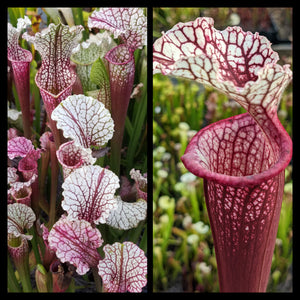 We found 2 plants that look similar in the hopes that the seedlings will blast your eyes with white topped leaves. 
This clone of 'Lunchbox' x "Johnny Wilkerson" has a white lid and red body.  Unique to this clone, the venation fades out in the throat, and is temporarily nicknamed V29.  "Hawaiian Ice" is a slender, fall-dominant hybrid with dramatic September color.  
Each packet contains approximately 25 seeds.
FlytrapKing.com does not offer customer support for seed-growing plants.  Please click here for some helpful guidelines.
268