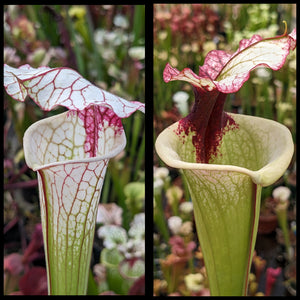 S. 'Iamsatyricon' is a slender hybrid of 'Leah Wilkerson' and leucophylla that has ultra-thin pastel veins.  It produces its best leaves in the fall and has been known to make very very white seedlings.   'Legacy' has a very narrow hood column, plenty of white and makes great leaves in the spring and summer.  The white coloration on top transitions into the green body in a very attractive way.   
Both of these plants have extensive red throats and are renowned for their vibrant whites.  The seedlings from this cross will make you slap your momma!
Each packet contains approximately 25 seeds.
FlytrapKing.com does not offer customer support for seed-growing plants.  Please click here for some helpful guidelines.
430