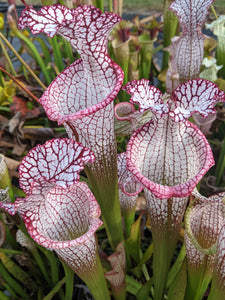 Description: This incredibly attractive and slow-growing white top pitcher plant was purchased from Meadowview biological research station. They labeled it "leuc Liberty".
It grows a handful of skinny leaves in the spring and summer, and a few very large spectacular early September leaves. The delicate pastel coloration and angular lip shape are fantastic!
Pitcher Plant Care: Plant in full sun to part shade outdoors. Use peat moss and perlite in a very large planter and keep it wet. It loses its leaves in the winter. Cold hardy to 20F in a pot and 0F in the ground.
All plants will ship bare root, without pots and soil.