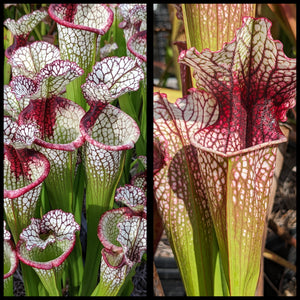 Sarracenia "Drew McClain" is a cross between S. 'Judith Hindle' and S. 'Leah Wilkerson'.  It looks like a whiter S. 'Judith Hindle' and grows to about 18" tall.  When crossed to S. 'Lunchbox' it yields medium-height plants with vibrant white tops and intense red throats.  Expect ruffled lids and loads of leaves with this inspired pairing.  The whole Kindergarten class will cry because you won't want to share any of these seedlings!
Each packet contains approximately 25 seeds.
FlytrapKing.com does not offer customer support for seed-growing plants.  Please click here for some helpful guidelines.
440