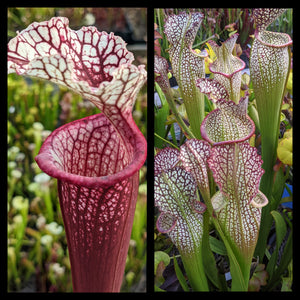 The clone of 'Lunchbox' x "Johnny Wilkerson" we used for this cross is temporarily nicknamed V29.  It has a pink-maroon leaf with a white top, and very fall dominant.  "Elvis Wilkerson" has a bulbous shape and produces most of its leaves in the fall, and has an "in-between" color scheme that has room for improvement.  Will these seeds cram your garden to the next level?  
Each packet contains approximately 25 seeds.  
FlytrapKing.com does not offer customer support for seed-growing plants.  Please click here for some helpful guidelines .
320