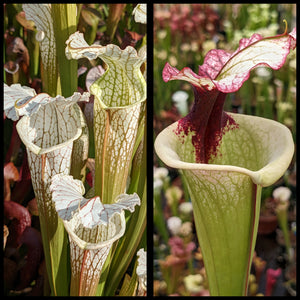 Readii x 'Schnell's Ghost' is a quarter rubra and three quarters leucophylla.  Also, it grows slender leaves up to 33 inches tall and develops beautiful bright pink color after frost.  It has been known to make solid white-topped seedlings with no venation on the lid!
'Legacy' has a very narrow hood column, plenty of white and makes great leaves in the spring and summer.  It is large-growing and has an outlandish dark throat.
Adding a dash of rubra to a moorei can make seedlings that produce numerous attractive leaves all growing season!  Take that into consideration when you're pining over these seeds.  And the fact that this cross could produce insane white, red throated plants. 
Each packet contains approximately 25 seeds.
FlytrapKing.com does not offer customer support for seed-growing plants.  Please click here for some helpful guidelines.
452